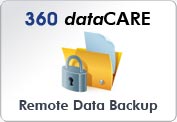 360 DataCARE
Our 360 dataCARE solution provides the ability to back up critical system data remotely and securely to our carrier grade data center right over the Internet. Featuring automatic data compression and secure data encryption, our 360 dataCARE solution helps to ensure that your network data remains available even if a critical computer failure occurs.
Features
Remote data backup software capable of archiving Server or Workstation
Incremental backup storage of up to 5 versions of trailing data
Runs automatically, unattended 7 days per week
Online Web recovery restore
Installation included

SOLUTION 360 provides fully managed 360 dataCARE, scalable IT Solution combines network, security, and application expertise.





© Copyright 2011, Solution 360, Inc. All Rights Reserved
Corporate Headquarter
100 Franklin Sq. Drive, Ste 207
Somerset, NJ 08873
Tel # 908-754-6064
Email :
info@solution-360.com