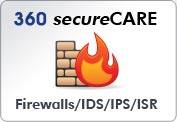 360 SecureCARE
Our 360 secureCARE helps protect your entire network from intrusions and attacks. Our systems continuously monitor your firewall, implement recommended security policies, maintain your user access lists, set thresholds and limits, provide monthly reporting, and help eliminate hackers and unwanted visitors through our intrusion detection techniques.
Features
At this stage, we recommend and install key business applications to give your organization the horsepower it needs to succeed. Sample applications include:
Constant monitoring of your firewall for viruses, hackers, spyware and network attacks
Enforcement of remote access policies
Daily, Weekly and Monthly activity reports of all firewall activity
Restricted access measures (e.g. to block access to gambling or pornography sites)
Quarterly proactive network intrusion scans
Installation and Configuration is included
Securing the enterprise network infrastructure becomes even more challenging as organizations extend their networks and deploy new applications and e-business solutions on the Internet. That's why companies are looking for outsourcing IT solutions that are cost effective, secure, and easily adapted to changing technology and business needs. Solution 360 provides fully managed 360 secureCARE, scalable IT Solution combines network, security, and application expertise.





© Copyright 2011, Solution 360, Inc. All Rights Reserved
Corporate Headquarter
100 Franklin Sq. Drive, Ste 207
Somerset, NJ 08873
Tel # 908-754-6064
Email :
info@solution-360.com