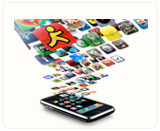 360 Mobile App
Solution 360 offers a complete, end-to-end services for mobile application development across all major platforms including Apple iPhone, RIM's BlackBerry, Google's Android, Microsoft's Windows Mobile and iPad.
The services we offer include
Design
- On small pocket-sized screens, and on devices that people just pull out for 30 sec onds at a time while waiting in the ticket queue, having the right design for your ap plication is critical. Users want to launch the app, perform that one function and get out. With the right design, the information flow in the app becomes intuitive, and the right use of color, texture and layout makes the app memorable a nd sticky.
Production and Program Management
-Our engineering team is led by highly competent people who have experience of leading large teams and handling high-value client projects. Each project that we undertake is assigned a producer, and this person is your single point of contact for the duration of your project.
Development
- This is the primary, and the most important service we offer. Our team of engineers has the right skills to deploy your app on all major mobile platforms. You may want to engage with your audience purely on mobile or create an app for all devices. It all depends on your audience and the context of your message. Social engagement through apps is possible on all devices.
QA
- Whether you are developing a complex multiplayer mobile apps or a simple tip calculator, we have the QA team with the right skill-set to test the app thoroughly and make sure that the app is free of any glitches. Our QA department has pe- rsonnel with testing skills specific for high-end games, as well as for complex en terprise and business apps.